Schizophrenia genomics and proteomics: are we any closer to biomarker discovery?
Behavioral and Brain Functions
2009
5:2
Received: 12 October 2008
Accepted: 07 January 2009
Published: 07 January 2009
Abstract
The field of proteomics has made leaps and bounds in the last 10 years particularly in the fields of oncology and cardiovascular medicine. In comparison, neuroproteomics is still playing catch up mainly due to the relative complexity of neurological disorders. Schizophrenia is one such disorder, believed to be the results of multiple factors both genetic and environmental. Affecting over 2 million people in the US alone, it has become a major clinical and public health concern worldwide. This paper gives an update of schizophrenia biomarker research as reviewed by Lakhan in 2006 and gives us a rundown of the progress made during the last two years. Several studies demonstrate the potential of cerebrospinal fluid as a source of neuro-specific biomarkers. Genetic association studies are making headway in identifying candidate genes for schizophrenia. In addition, metabonomics, bioinformatics, and neuroimaging techniques are aiming to complete the picture by filling in knowledge gaps. International cooperation in the form of genomics and protein databases and brain banks is facilitating research efforts. While none of the recent developments described here in qualifies as biomarker discovery, many are likely to be stepping stones towards that goal.
Keywords
SchizophreniaAmyotrophic Lateral SclerosisProspective MemorySchizophrenia PatientBrief Psychiatric Rate Scale
Background
Schizophrenia is a complex disturbance of mind and brain characterized by psychotic symptoms such as delusions and hallucinations. In a review of several epidemiological estimates using varied criteria, McGrath et al. [1] report the worldwide incidence of schizophrenia to range from 7 to 42 per 100,000 population. In the US alone, over 2 million Americans have been diagnosed with schizophrenia [2]. The US Centers for Disease Prevention and Control (CDC) estimated the national expenditure for overall mental health in 2003 at over $100 billion.
The history of schizophrenia is obscure possibly due to the heterogeneous nature of the disorder and consequent difficulty in formal classification. Earliest case reports date back to the 1800s [3]. Despite an abundance of research, the pathogenesis and etiology of this often highly disabling disorder remains unclear. Not surprisingly, the diagnosis and treatment of schizophrenia remains problematic; mainly for the following reasons:
Diagnosis is solely based on behavioral markers, either as self-reported symptoms by patients or observations by clinicians.

No laboratory diagnostic and screening tools are currently available.

Symptoms may overlap with other neurological and psychiatric problems such as organic syndromes (e.g. drug-induced psychoses, delirium and dementia), psychotic mood disorders and personality disorders.
It would clearly be desirable to identify a diagnostic tool for schizophrenia that is highly specific, and highly sensitive. Of importance the marker should signify the disease early in its course, as there is evidence that delays in diagnosis and intervention lead to a poorer prognosis. In addition, a method that is cost-effective and non-invasive would be of added value [2, 4].
Objective of the review
The use of biological markers in medicine has come a long way with advances in the fields of pathology, biochemistry and most notably genetics. For example, prevalent and debilitating diseases such as heart failure can be diagnosed with high sensitivity and specificity by measurement of levels of B-natriuretic peptide (BNP). Certain types of cancer can be screened for and monitored by specific tumor markers. Genetic diagnoses can be obtained for cancers, and numerous other diseases from Parkinson's to hypertrophic cardiomyopathy.
In psychiatry, biomarker research is more problematic due to the difficulty in illuminating the pathophysiology of psychiatric disorders. Despite this, extensive research on the genetics and proteomics of neurodegenerative disorders such as Alzheimer's disease (AD) is making headway [5]. This article is an update of the paper by Lakhan [2] and reviews the current status of biomarker research for schizophrenia, with emphasis on proteomics and genomics.
Biomarkers
Biomarkers may be in the form of genes, proteins and other molecules, or morphological characteristics. Depending on the information they can provide, biomarkers may be used in diagnostics as prediction tools (e.g. subclinical markers, risk or vulnerability markers), or as diseases signatures (e.g. disease markers, stage or progression markers) (see Figure
1
).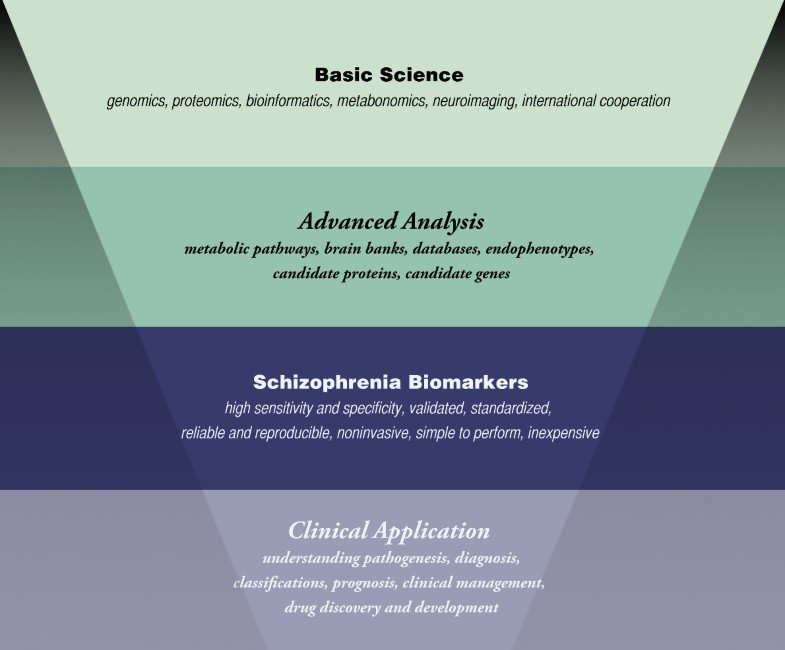 Although the pathophysiology of schizophrenia remains unclear, there is an increasing body of evidence that several molecular pathways are involved. Most findings point to the direction of malfunctioning of the glutamate pathway [6]. It is hoped that these molecular processes are mirrored in easily detectable biomarkers. However, this is not the case thus far.
Discussion and conclusion
This article attempts to review the most significant findings in the field of schizophrenia biomarker research during the last two years. While none of the developments described here qualify as biomarker discovery, many will likely serve as stepping stones towards that goal. To summarise the major achievements:
There has been a rapid increase in schizophrenia research; current publication rate as estimated by SzGene databases is 90 papers a week [7].

Genetic studies have definitely made headway in screening for candidate schizophrenia genes in association studies. Endophenotypes or intermediate phenotypes are useful in the understanding the pathway from genes to behavior.

Schizophrenia proteomics lags behind compared to other neurological disorders such as AD. However, progress has been made in identifying candidate protein and metabonomic markers. CSF as a source of disease markers looks especially promising as demonstrated in the case of AD.

Neuroimaging is also making progress in linking genotypes to brain morphology, supporting the endophenotype approach.

International cooperation in the form of networks, open access databases and brain banks is facilitating comparison and verification of results.
However, there is still a long way to go before biomarkers become part of the standard clinical care for schizophrenia patients. Before we get there, there are several things that need to be improved upon, as follows:
We need to conduct larger studies for more statistical power.

Candidate biomarkers need to be tested for sensitivity and specificity to resolve overlaps with related disorders.

More association studies are needed, especially those looking at other ethnic groups besides Caucasian.

Methods for sample collection, storage, and sample processing of biofluid sources of biomarkers, especially CSF, need to be standardized.
Abbreviations
1H MRS:

proton magnetic resonance spectroscopy
8-isoPGF(2alpha):

isoprostane-8-epi-prostaglandin F(2alpha)
ALS:

amyotrophic lateral sclerosis
BNP:

B-natriuretic peptide
BPRS:

Brief Psychiatric Rating Scale
CDC:

Centers for Disease Control and Prevention
Cho:

glycerophosphocholine/phosphocholine
Cr:

creatine/phosphocreatine
CSF:

cerebrospinal fluid
SzGene:

SchizophreniaGene
DISC1:

Disrupted-In-Schizophrenia 1
DTNBP1:

dystrobrevin-binding protein 1
ER:

estrogen receptor
fMRI:

functional magnetic resonance imaging
HAM-D:

Hamilton Depression Rating Scale
IL3:

interleukin 3
MRI:

magnetic resonance imaging
NDEL1:

nudE nuclear distribution gene E homologue-like 1
OCD:

obsessive-compulsive disorder
PBLL:

peripheral blood lymphocytes
PDE4B:

phosphodiesterase 4B
PPI:

proton pump inhibitor
PR:

progesterone receptor
SNP:

single nucleotide polymorphism
SOD:

superoxide dismutase
TBARS:

thiobarbituric acid reactive species.
Declarations
Acknowledgements
The authors wish to take Zoe Danae Falliers of VIDAdesign and StudioToDo for her graphic design services.
Authors' Affiliations
(1)
Global Neuroscience Initiative Foundation, Los Angeles, USA
Copyright
© Lakhan and Kramer; licensee BioMed Central Ltd. 2009
This article is published under license to BioMed Central Ltd. This is an Open Access article distributed under the terms of the Creative Commons Attribution License (http://creativecommons.org/licenses/by/2.0), which permits unrestricted use, distribution, and reproduction in any medium, provided the original work is properly cited.