Attention-deficit hyperactivity disorder (ADHD) and glial integrity: an exploration of associations of cytokines and kynurenine metabolites with symptoms and attention
Behavioral and Brain Functions
2010
6:32
Received: 9 December 2009
Accepted: 9 June 2010
Published: 9 June 2010
Abstract
Background
In contrast to studies of depression and psychosis, the first part of this study showed no major differences in serum levels of cytokines and tryptophan metabolites between healthy children and those with attention-deficit/hyperactivity disorder of the combined type (ADHD). Yet, small decreases of potentially toxic kynurenine metabolites and increases of cytokines were evident in subgroups. Therefore we examined predictions of biochemical associations with the major symptom clusters, measures of attention and response variability.
Methods
We explored systematically associations of 8 cytokines (indicators of pro/anti-inflammatory function) and 5 tryptophan metabolites with symptom ratings (e.g. anxiety, opposition, inattention) and continuous performance test (CPT) measures (e.g. movement, response time (RT), variability) in 35 ADHD (14 on medication) and 21 control children. Predictions from linear regressions (controlled by the false discovery rate) confirmed or disconfirmed partial correlations accounting for age, body mass and socio-economic status.
Results
(1) Total symptom ratings were associated with increases of the interleukins IL-16 and IL-13, where relations of IL-16 (along with decreased S100B) with hyperactivity, and IL-13 with inattention were notable. Opposition ratings were predicted by increased IL-2 in ADHD and IL-6 in control children. (2) In the CPT, IL-16 related to motor measures and errors of commission, while IL-13 was associated with errors of omission. Increased RT variability related to lower TNF-α, but to higher IFN-γ levels. (3) Tryptophan metabolites were not significantly related to symptoms. But increased tryptophan predicted errors of omission, its breakdown predicted errors of commission and kynurenine levels related to faster RTs.
Conclusions
Many associations were found across diagnostic groups even though they were more marked in one group. This confirms the quantitative trait nature of these features. Conceptually the relationships of the pro- and antiinflammatory cytokines distinguished between behaviours associated more with cognitive or more with motor control respectively. Further study should extend the number of immunological and metabolic markers to confirm or refute the trends reported here and examine their stability from childhood to adolescence in a longitudinal design.
Keywords
Kynurenine
Quinolinic Acid
ADHD Group
ADHD Child
Kynurenine Pathway
Background
Essential components of the diagnosis of attention-deficit/hyperactivity disorder of the combined type (ADHD) are clinical impairments of attention, impulsivity and hyperactivity.
Further, the variability of the expression of these symptoms and of neuropsychological measures in the laboratory is viewed as central to the syndrome and has been proposed as an endophenotype of the disorder [1–4]. Neuronal firing must be maintained to sustain a behavioural response. A recent hypothesis [5] proposed that an inefficient supply of energy from glial cells (the lactate shuttle: [6]) might underlie the intra-individual variability in behaviour and the underlying neuronal activity of children with ADHD.
The cytokine and growth factor S100B is a potential marker of glial function. Serum levels arise largely but not exclusively from astrocytes [7]. Increases have been associated with brain damage, major depression, psychosis and dementia [8–10]. However, our pilot study of children with ADHD found that levels of S100B were not unusual, although a tendency for levels to decrease in those with internalizing symptoms was noted [11].
Tryptophan metabolism along the kynurenine pathway takes place primarily in glia [12]. Our study [11] also recorded levels of these metabolites and some cytokines that influence the metabolism [13] as further potential indicators of glial integrity. Relevant to our hypothesis on glial function is that metabolites of kynurenine can be neuroprotective (e.g. kynurenate) or potentially toxic (3-hydroxy-kynurenine, 3-HK) and that the balance between these metabolic routes is modulated by the relative activity of the pro- and anti-inflammatory cytokines [13].
Our initial analysis [
11
] reported a modest imbalance of cytokines in children with ADHD (figure
1
). This improved in those treated with methylphenidate, and thus arguably reflected an increased allostatic load [
14
]. In the kynurenine pathway, we noted lower levels of the potentially toxic 3HK in children with ADHD than controls that could reflect a maturational delay [
15
] of the neuronal pruning processes seen in typically developing children [
16
,
17
]. [However, an alternative metabolic route for kynurenine over nicotine adenine dinucleotide (NAD(+)) rather than the toxic quinolinic acid cannot be excluded [
18
].]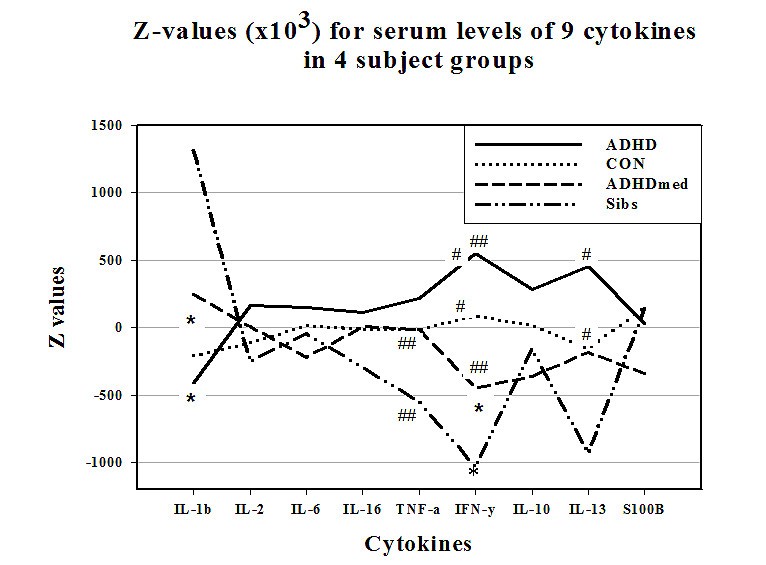 As we had evidence for differences of the cytokine levels and their associations specific to sub-groups (see internalizing symptoms and S100B above, and interleukin IL-10 and IL-16 in those with experience of allergy), we proposed that there would be associations with the major symptom clusters and underlying processes. In particular, we focused on ratings of inattention, hyperactivity, opposition and anxiety, and laboratory measures of attention where the coefficient of variation as a measure of variability could be calculated. This aim has aetiological significance firstly as the inattentive symptoms are those most likely to persist into adulthood [19], and secondly the measure of variability relates directly to the glial hypothesis for the generation of features of ADHD [5]. On the basis of allostasis we predicted that poorer measures of attention would relate to increased levels of some cytokines and reflect an imbalance between pro-and anti-inflammatory activity.
The absence of previous work in this field makes precise predictions impractical. We know of only one study of cytokines in ADHD [20] and one relating to kynurenine [21]. The former found no extreme values for type-1 or type-2 interleukins among patients with ADHD, unlike those with schizophrenia or obsessive-compulsive disorder. The latter described a potential increase of kynurenine metabolism (over that for serotonin, 5-HT) in ADHD following stimulant medication. Indeed, there is substantial indirect evidence for considering a role for 5-HT in ADHD, and by implication the availability of its precursor tryptophan [22, 23]. Thus, in the domain of impulsivity, there is evidence for the genetic control in ADHD of the expression of 5-HT receptors, its synthesis and availability [24]. In the domain of sustained attention, task performance related negatively to 5-HT metabolism, and increased 5-HT metabolism (vs. dopamine metabolism) was inversely related with the signal detection measure, d-prime [25]. In support of a continued consideration of 5-HT metabolism here, we reported moderately increased tryptophan availability in untreated ADHD children [11].
Thus, this study represents an exploration of the hypothesis that there are potentially functional associations of symptom ratings (e.g. inattention) and continuous performance task measures (CPT: sustained attention, impulsivity and variability) with 8 cytokines, tryptophan and 4 tryptophan metabolites. The cytokines include the interleukins IL-2, IL-6, interferon-gamma (IFN-γ), tumour necrosis factor-alpha (TNF-α), IL-16, Il-10, IL-13 and S100B. The metabolites include 5-hydroxy-indoleacetic acid (5-HIAA), kynurenine, kynurenate, and 3HK.
Results
(1) Group comparisons
Group features and comparisons of their symptoms and attentive behaviour
The three groups did not differ on gender distribution, socio-economic scale or incidence of allergy (table 1). ADHD children were younger than the controls and both were younger than the ADHDmed group (p < 0.02): they also had a lower BMI than the ADHDmed group (p < 0.005) and their IQ was lower than in either the ADHDmed or control groups (p < 0.05).
Covarying for age and IQ, the CPRS symptom ratings were clearly higher for both ADHD groups than the controls on each scale except anxiety. The anxiety ratings were only a little higher in the ADHD groups than in controls. Similar but less marked differences were shown with the CTRS. There were no differences between the ADHD groups (table 2). Using the same covariates attenuated the group differences on CPT measures, but only that for the errors of commission errors lost significance. Compared to the ADHD groups controls showed less motor activity, a shorter RT with less variability and more errors of omission (table 3). While post-hoc comparisons of the two ADHD groups showed that medication did not significantly reduce RT or errors of omission, the ADHDmed group did show fewer microevents, a shorter duration of activity, less RT variability and fewer errors of commission.
Group comparisons: tryptophan metabolism and cytokines
Tryptophan levels and availability were modestly higher and breakdown indices lower in those with a diagnosis of ADHD after controlling for age and gender (figure
2
, [
11
]). But this was not reflected in altered levels of 5-HIAA or kynurenine. Taking account of age and BMI, the ratio of kynurenate to 3HK, was lower in children with ADHD than the comparison groups which showed slightly increased levels of 3HK.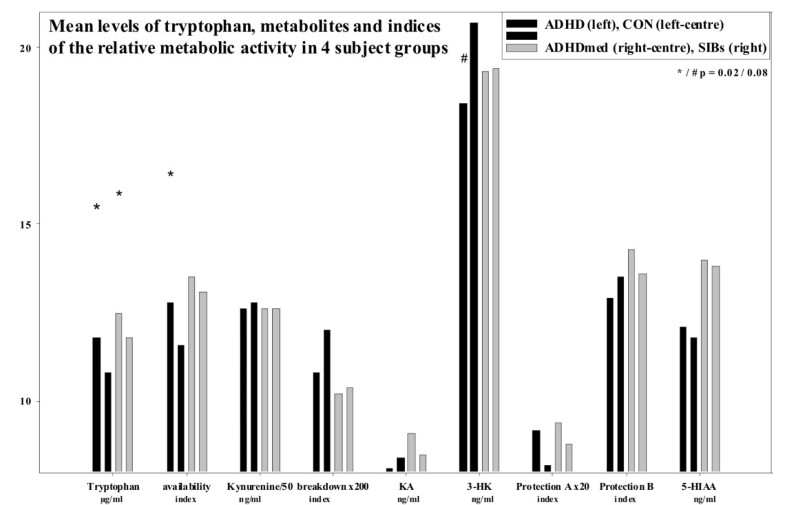 There were no group differences in S100B levels, but reductions in ADHD children reflected those with internalizing rather than conduct problems [11]. Except for IL-1β and TNF-α the normalised cytokine values (figure 1) tended to be higher in the ADHD than in the control group. All values in the ADHDmed group returned to more normal levels.
(2) Relations of biochemical measures to group features, symptoms and attention
Group features (relations to tryptophan metabolism and the cytokines)
Across all children tryptophan levels increased with BMI and age (R2 0.14, F(1,54) = 8.69: β +0.37, p = 0.005): this was evident in both the ADHD and ADHDmed groups (R2 0.22/0.60, F(1,19) = 5.33/8.16: β + 0.47/+0.96, p = 0.03/0.002, respectively). 3HK levels also tended to increase in controls (R2 0.20, F(1,19) = 4.69, β +0.45, p = 0.04). IQ was unrelated, but low SES was predicted by lower tryptophan and increasing kynurenate levels (R2 0.15, F(2,53) = 4.70: β + 0.33/-0.34, p = 0.018/0.015, respectively). This was supported by modest associations with increased tryptophan breakdown and lower neuroprotection ratio-B (β -0.3/-0.28, p = 0.02/0.03). Lastly, across all children (and within each group), those with an experience of allergy tended to be predicted by low levels of 5-HIAA (R2 0.07, F(1,54) = 3.93: β -0.26, p = 0.05).
Group features were only marginally predicted by the levels of a few proinflammatory cytokines. Across all subjects increasing TNF-α and decreasing IFN-γ levels tended to predict increasing age (R2 0.084, F(2,53) = 0.09: β +0.28/-0.31, p = 0.077/0.049, respectively). BMI also tended to be predicted by increasing TNF-α and IL-6 levels (β +0.32/+0.45, p = 0.03/0.001, respectively).
Across subjects allergic experience tended to relate to decreasing proinflammatory TNF-α but increasing antiinflammatory IL-10 levels (R2 0.16, F(2,53) = 5.0, p = 0.01: β -0.27/ + 0.31, p = 0.039/0.017, respectively). In the ADHD group, in addition to the TNF-α decrease, (β -0.63, p = 0.03) increasing antiinflammatory IL-13 levels predicted response (β +0.56, p = 0.01). In contrast, for the controls alone the increase in IL-10 was masked by decreases of IL-13 in the prediction of allergy severity (R2 0.42, F(2,18) = 6.6, p = 0.007: β + 0.33/-0.13, p = 0.08/0.01, respectively).
Summary
Tryptophan levels increased with age and BMI, but lower SES status facilitated metabolism in the kynurenine pathway. Some proinflammatory cytokine levels decreased (IFN-γ) or increased with BMI (TNF-α, IL-6). Independent of diagnosis, children with allergies tended to show lower levels of 5-HT metabolism. Most children with experience of allergy showed decreases of the proinflammatory TNF-α. However, in contrast to the controls who showed decreases of the anti-inflammatory IL-13, the ADHD group showed increased IL-13 levels.
Symptom ratings: relations of tryptophan metabolism
In general, symptoms were not associated clearly with tryptophan metabolism. Partial correlations accounting for age, BMI and SES suggested that inattentive symptoms were related to tryptophan levels across all children (r = +0.32, p = 0.026). Alone for controls anxiety related to 5-HIAA levels (r = 0.52, p = 0.038) and inattentive ratings with 3HK (r = +0.49, p = 0.037). Only the latter result (3HK) approached the threshold for significance in the regression (R2 0.19, F(1,19) = 4.5: β +0.44, p = 0.048).
Symptom ratings: relations of cytokine measures
Overall, considering total symptom ratings in the ADHD group the best predictors were increasing levels of IL-13 and IL-16 along with decreasing levels of S100B (R2 0.57, F(4,16) = 5.21, p = 0.007: β +0.59, +0.51, -0.54, p = 0.024, 0.019, 0.013, respectively) with a minor contribution from TNF-α.
Partial correlations accounting for age, BMI and SES pointed to associations for pro-inflammatory cytokines with two symptom groupings, namely the oppositional and hyperactive-impulsive ratings. In the ADHD group decreasing IL-2 (r -0.64, p = 0.026) and TNF-α (r -0.62, p = 0.018: figure
3
) correlated with increased ratings of opposition. Regression confirmed the IL-2 result (R
2
0.41, F(2,18) = 6.2, p = 0.009: β -0.55, p = 0.007: figure
4
) and implied a modest predictive role for increasing levels of S100B (β +0.37 p = 0.057). Of interest is that in the controls another proinflammatory cytokine (IL-6) correlated with oppositional ratings (r +0.48, p = 0.05): the predictive role was confirmed in the regression (R
2
0.30, F(1,19) = 7.99, p = 0.01: β +0.54, p = 0.01).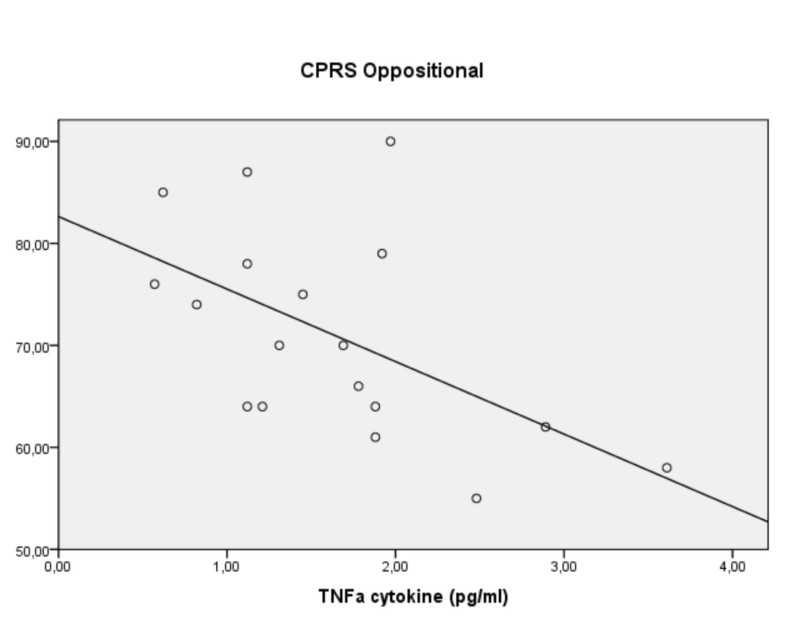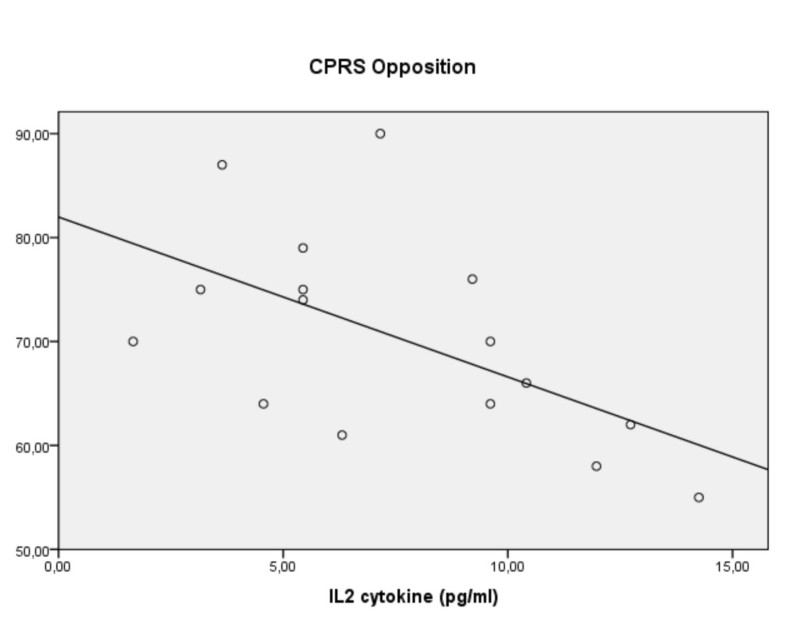 The association of hyperactive-impulsive ratings in the ADHD group with IL-16 (r +0.66, p = 0.015) was confirmed by the regression (R
2
0.52, F(2,18) = 9.82, p = 0.001: β +0.80, p = 0.000) with modest support from decreasing levels of S100B (β -0.42, p = 0.035). Anxiety ratings were without relationships to the cytokines. But, intriguingly ratings of inattention in the ADHD group tended to relate positively to levels of the antiinflammatory IL-13, yet negatively to IL-13 in the controls (R
2
0.33/0.45, F(2/3, 18/17) = 4.5/4.6, p = 0.026/0.015: β +0.44/-0.67, p = 0.03/0.007, respectively: figure
5
). The ADHD result was modestly supported by increasing IL-6 levels (β +0.38) and the control result by increasing S100B (β + 0.64).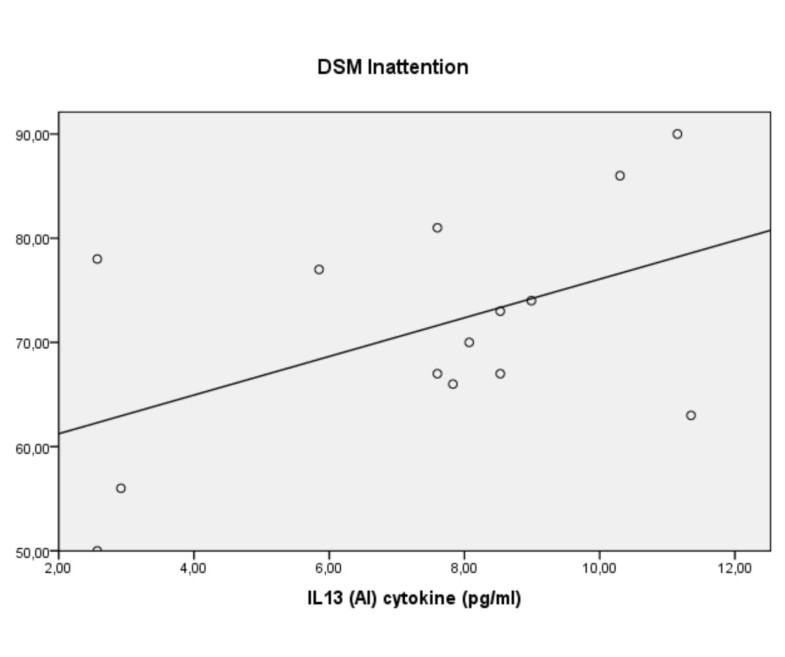 Summary
There were modest associations of tryptophan levels and its metabolism to the potentially toxic 3HK with inattention, and 5-HT metabolism to anxiety. Proinflammatory cytokines were associated with oppositional symptoms: decreases of IL-2 in the ADHD group contrasted with increases of IL-6 in the controls. In general, ADHD symptoms were associated with increases of the antiinflammatory IL-13 (inattention), increases of IL-16 (hyperactive-impulsive symptoms) and with decreases of S100B (total symptoms).
CPT performance: relations of tryptophan metabolism
Across all subjects motor activity (duration, microevents) showed a very modest tendency to increase with lower levels of 3HK (R2 0.07, F(1,54) = 4.0/3.4: β-0.26/-0.24, p = 0.05/0.07, respectively), but this was not evident in the partial correlations and single group analyses.
In control children faster RTs were associated with increasing kynurenine levels (R
2
0.32, F(1,19) = 9.13: β -0.57, p = 0.007: figure
6
). This confirmed the partial correlation (r = -0.52, p = 0.026). Unexpectedly, the opposite relationship appeared in the ADHDmed group (r = + 0.93, p = 0.000: R
2
0.48, F(1,12) = 10.93: β +.69, p = 0.006) with no association evident in the non-medicated cases. Across all subjects, there was a partial correlation for the coefficient of RT variance with tryptophan levels (r+0.30, p = 0.035), yet a predictive role for tryptophan was not confirmed in the regression. Interestingly, the decrease of tryptophan (and variability) in controls (vs. the ADHD group, figure
2
) tended to be reflected by increases of 5-HIAA (r = -0.45, R
2
0.17, F(1,19) = 3.95: β -0.42, p = 0.06). But, no associations were evident in the ADHD groups. The interpretation of the RT associations in terms of 5-HT metabolism is supported by the partial correlations of the turnover indices. While tryptophan availability was positively related to RT (r+0.36, p = 0.012), the breakdown to kynurenine was negatively associated (r-0.31, p = 0.03).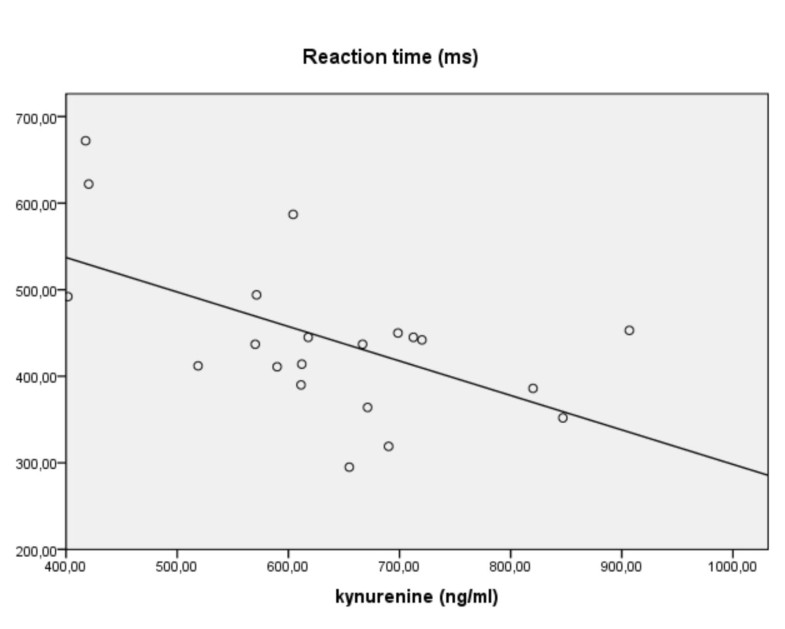 The error analysis suggested that omissions were positively associated with tryptophan levels across subjects (r = +0.38 p = 0.006: R2 0.14, F(1,54) = 9.03: β +0.38, p = 0.004). This positive association between tryptophan levels and omission errors was evident as a trend in the ADHDmed group where the relationship to commission errors was negative (R2 0.35/0.54, F(1,12)/(2,11) = 6.37/6.42: β +0.59/-0.92, p = 0.027/0.004, respectively). This negative trend with commission errors is upheld by their association with the tryptophan breakdown index (R2 0.49, F(1,12) = 11.8: β +0.70, p = 0.005).
CPT performance: relations of cytokine measures
Considering motor activity across all subjects, the partial correlations pointed to a positive association of the duration measure with IL-16 levels (r+0.30, p = 0.038). This was confirmed by the regression (R2 0.08, F(1,54) = 4.56: β +0.28, p = 0.037). The motor associations appeared to be driven by IL-16 in the ADHD group for both duration and microevent measures (R2 0.55/0.47, F(3,17) = 6.9/5.0, p = 0.003/0.01: β +0.55/+0.47, p = 0.007/0.028, respectively). [The other degrees of freedom here refer to minor contributions from decreases of the pro-inflammatory IL-6 and TNF-α.] In contrast, the effect of medication introduced a potential modest antiinflammatory influence (e.g. IL-10 with microevents, R2 0.35, F(1,12) = 6.3: β +0.59, p = 0.027).
Several analyses indicated minor negative associations of RT with cytokines (e.g. IL-2, S100B) but only the effect of medication showed that decreasing RTs related to increasing levels of IL-2 (ADHDmed: β -0.73, p = 0.003: figure
7
). This contrasts with RT variability, where across subjects the coefficient of variance was influenced in opposite ways by TNF-α and IFN-γ (R
2
0.18, F(2,53) = 6.1, p = 0.004: β -0.46/+0.04, p = 0.002/0.007, respectively: figure
8
). While these two relationships were not driven by processes related to diagnosis, the association with TNF-α was most marked in the medicated ADHD group (β -0.70, p = 0.007).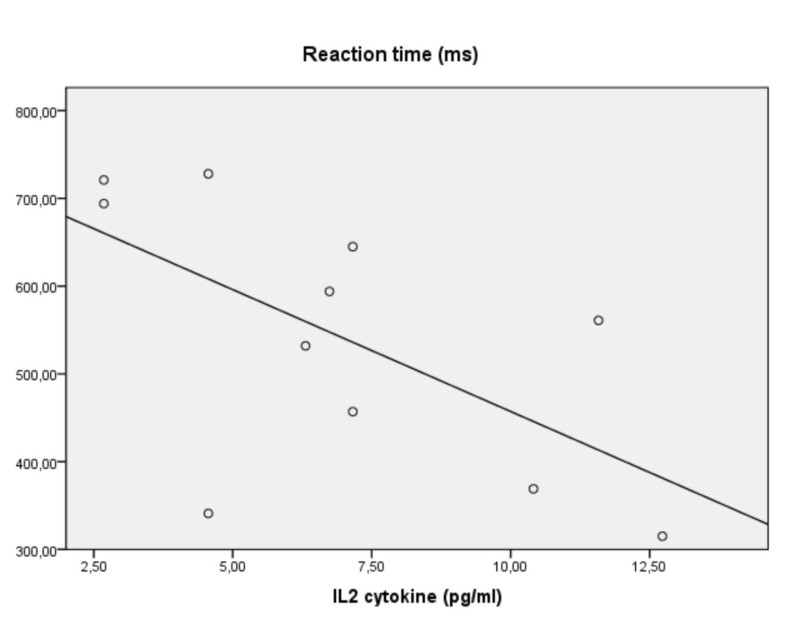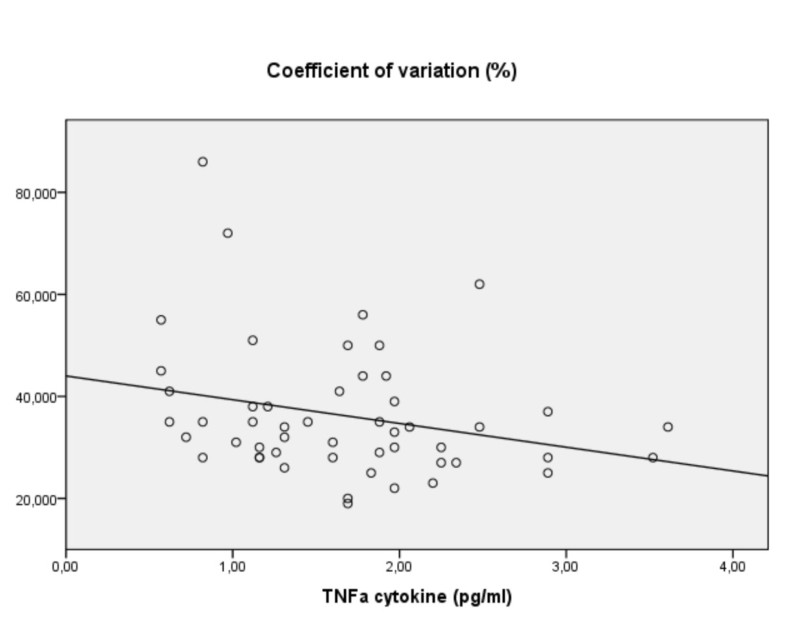 In the error analyses errors of commission were predicted by levels of IL-16 (r+0.42, p = 0.003: R
2
0.17, F(1,54) = 10.75: β +0.41, p = 0.002: figure
9
). But, as with variability (above) this was most apparent in the ADHDmed group (β +0.75, p = 0.000). In this group alone, again as with variability, decreases of proinflammatory TNF-α (β-0.36, p = 0.016) and IL-6 (β-0.39, p = 0.032) also tended to predict errors of commission. For omission errors only the negative associations of IL-13 (ADHD: β-0.47, p = 0.03)) and IL-16 (ADHDmed: β-0.63, p = 0.004) were of note.
Summary
Measures of motor activity were not related to tryptophan metabolism but were positively predicted by IL-16 levels. In contrast, shorter RTs were associated with increasing kynurenine levels in controls, but by decreasing levels in the ADHDmed group. Here, the cytokines were without any major influence. Interestingly, decreased RT variability in controls was reflected by modest increases of catabolism to 5-HIAA. With regard to the cytokines, across subjects, levels of variability reflected the opposing influences of TNF-α and IFN-γ. In the error analysis, while the build up of tryptophan predicted omission errors, its breakdown predicted errors of commission. But only the errors of commission were predicted by IL-16 levels. Medication may moderate interactions of pro-and antiinflammatory cytokines in motor activity (IL-2/RT, IL-10/microevents) and the influences of proinflammatory TNF-α, IL-6 (variable RT) and IL-16 (impulsivity).
Discussion
Over 20 years ago Kim and Choi [34] demonstrated that the breakdown of tryptophan and kynurenine can produce toxic metabolites (3HK and quinolinate) in neocortical tissue, but an alternative pathway produces kynurenate that can be protective. Kynurenine metabolism in the brain occurs largely in the glia that envelop glutamatergic synapses [12]. Among the numerous responses of the glia to excitotoxicity are alterations in the proinflammatory cytokines, such as TNF-α and IFN-γ [35], where the balance with antiinflammatory cytokines influences tryptophan metabolism [13]. Recently there have been numerous reports of associations of kynurenine metabolites and cytokines with brain damage and psychiatric disorders [8, 36–40]. While we only found modest changes of selected markers of these cytokines and metabolites in our pilot study of ADHD [11], we hypothesized here that key symptoms and poor attentional function would reflect alterations of the activity of these markers. Features of the kynurenine metabolic pathway and neuroinflammatory activity of cytokines have not been explored before in the context of ADHD.
We report a preliminary exploration of whether products of tryptophan metabolism and the cytokines that modulate this metabolism predict some of these symptoms, and their laboratory measures in children with a strict diagnosis of ADHD (combined type) contrasted with those developing normally. The study is predicated on increasing evidence that alterations in these two biochemical domains are reflected in both the features of ADHD [21, 41] and animal models of these functions [42, 43].
Those with the diagnosis of ADHD had clearly more symptoms of inattention, hyperactivity-impulsivity and opposition than those without the diagnosis. On a test of sustained attention the children with ADHD showed more motor activity, errors of omission, a slower RT and more RT variability. Most cytokine levels were modestly increased in children with ADHD (not S100B and IL-1β) and all tended to normalize on psychostimulant medication. While tryptophan availability was slightly increased in the ADHD group, 3HK levels tended to be lower than in the controls [11].
The cytokines and associations with symptoms
The DSM ratings of total symptom severity in the ADHD group were predicted by increasing levels of IL-16, and the anti-inflammatory IL-13, but by decreasing levels of S100B. The anti-inflammatory relationship was modestly evident for inattentive symptoms in the ADHD group, and arguably effective in countering dysfunction in that higher levels of IL-13 in the controls were related to fewer symptoms of inattention. The role of IL-16 can be pro-or anti-inflammatory in different situations [44, 45]. Here, in the ADHD group, IL-16 levels additionally predicted hyperactive-impulsive symptoms that were also modestly associated with decreased S100B. The IL-16 relationship with hyperactive symptoms might not be expected in so far as 2 genetic polymorphisms have been associated with the inattentive type of ADHD [46]. However, the difference may reflect other features of the two populations influencing the neuroinflammatory role of IL-16, such as allergy (see below). The association of symptom severity with decreasing S100B levels is consistent with our prediction of inefficient glial function in ADHD [11] rather than an overproduction resulting from apoptosis and brain damage reported for other major psychiatric disorders [10, 47, 48].
Only proinflammatory cytokine activity related to oppositional symptom ratings. Decreasing levels of IL-2, and to a minor extent TNF-a, were associated with increasing signs of opposition. We suggest the negative direction of association mirrors consistently the frequent reports of increased IL-2 activity in disorders such as schizophrenia and Parkinsonism with a very different clinical profile [40, 49, 50]. On the other hand we note a relationship between increasing IL-6 and oppositional behaviour in the control group. We tentatively suggest that, as IL-6 levels increased with BMI and the controls were marginally older than the patients, such an increase reflects the normal parallel development of boisterous behaviour often associated with adolescence onset. This interpretation is also consistent with the well-studied associations of IL-6 levels with physical and psychological stress [51].
Sensitivity to allergy reflected opposing trends for pro-and antiinflammatory cytokines. Children sensitive to allergy showed 15% more IL-16, 32% more IL-13 and similar levels of IL-10 [11]. But for the ADHD children who experienced allergic responses, these responses tended to be predicted by decreasing levels of the proinflammatory TNF-α and increases of the antiinflammatory IL-13. For controls the trend went in the opposite direction for IL-13, but this was balanced by modest increases of another antiinflammatory cytokine, IL-10. The difference between groups in the proinflammatory response is quantitative, but that for the antiinflammatory response is qualitative. This physiological response may underlie a subgroup of ADHD children with high allergic responsivity and for whom ADHD symptoms are alleviated by removal of the allergens from the diet [52–54]. Further, IL-10 secretion is facilitated by physical or psychological stress [55] and could be responsible for the decreases of tryptophan metabolism [56] discussed below.
The cytokines and associations with CPT performance
During the CPT both the duration of major movements and the quantity of small fidgety activity (microevents) were directly measured. Increasing IL-16 levels not only predicted hyperactive symptoms (above) but clearly predicted quantitative measures of motor activity, especially (but not only) in ADHD children. The associations extended to error omission and commission in the medicated children that may reflect motor as well as cognitive control. The associations of IL-16 with motor activity and allergy in this study clearly add to the concept of this being a pleiotropic cytokine, for which not all the roles have yet been elaborated.
Accuracy in terms of the errors made is more usually thought of as a cognitive than a motoric feature. Our data suggest that decreasing levels of the anti-inflammatory IL-13 may not only relate to inattentive symptoms (above), but specifically to increases of errors of omission. But, both this association and the tendency for errors of commission in medicated children to be reduced as pro-inflammatory TNF-α and IL-6 levels increased were modest trends. This should be examined closely in future studies. Nonetheless the increase of IL-2 with decreased RT in the ADHDmed group supports the proinflammatory effect on attention-related function.
Associations of the coefficient of variance of the RT is of especial interest, first as variability is the core feature of the hypothesis of glial impairment in ADHD [5], and secondly as it has been proposed as an endophenotype for ADHD (introduction). Here, across all subjects, increasing RT variability was related to decreasing levels of TNF-α and with increasing levels of IFN-γ.
Numerous studies confirm the involvement of proinflammatory cytokines in cognitive performance both in animal models and in the treatment of cancer patients. For example IL-2 treatment can interfere with long term potentiation in the hippocampal slice [57] and the formation of working memory in patients [58]. Treating rodents with IL-6 can impair measures of memory [59, 60], yet in knockout mice recall can be facilitated [61, 62]: the relationship of IL-6 to cognitive function may be linear or U-shaped [63]. However, IL-6 expression depends on the nature of the allele carried (CC/GC genotype) and this variable has too rarely been considered [64, 65]: the C allele may dominate in ADHD while the protective G allele may predominate in typically developing children [66]. The characteristics of TNF-α and IFN-γ have much in common with other proinflammatory interleukins. Too much [67] or too little TNF-α [68] can impair cognitive function, but moderate levels are essential [69]. Variation of these levels can influence the turnover of each of the monoamines [70]. Thus it is no surprise that TNF-α levels relate to accuracy and the variability of response in ADHD. However, the relationship of the effects with those of IFN-γ require closer study, as the physiological response to each varies with the measure and over time [70].
Tryptophan metabolism and associations with symptoms and CPT performance
Even after controlling for age, BMI and SES there were tendencies across subjects for a build-up of tryptophan (and its increased availability) to be associated with symptoms of inattention, RT and its variability as well as increases of errors of omission. In contrast decreased tryptophan levels (more breakdown) related to errors of commission. However, tryptophan metabolism was not related to motor activity. This was unexpected as the motor regions of the brain receive a dense 5-HT innervation [71].
For controls, slower RTs but for the ADHDmed group faster RTs were clearly associated with lower kynurenine levels. There was an indication that low levels of kynurenine for controls was reflected by the trend for reduced variability and an associated increase of metabolism in the 5-HT pathway. For medicated children the implication is of further glial metabolism in the kynurenine pathway that is facilitated by psychostimulant treatment [72]. Other trend relationships (e.g. 3HK with inattention, 5-HIAA with anxiety) were equivocal. The lack of anticipated changes of 5-HT metabolism related to antisocial/oppositional behaviour [73, 74] may simply reflect the extent of 5-HT metabolism from peripheral sources.
The absence of clear associations for tryptophan metabolism with symptoms or attention related performance in ADHD is itself of interest. An overexpression of indoleamine 2, 3 dioxygenase facilitates degradation to kynurenine (and its potentially toxic metabolites) and reduced 5-HT metabolism [75]. Such activity is promoted by proinflammatory cytokines [76]. This scenario fits evidence for the development of psychotic symptoms [38] and major depression [13]. But, our results tend to support the opposite effect in ADHD with increases of tryptophan availability relating to inattention and variable responses. Indeed, here there was even modest support for previous evidence for an involvement of 5-HT metabolism [77].
We had anticipated that the cytokine balance would favour kynurenine breakdown to either kynurenate or 3HK. On the basis of their glutamatergic antagonist and agonist activity these metabolites (and the 3HK metabolite quinolinate) have been ascribed a neuroprotective and toxic role, respectively [78]. But in fact our typically developing children rather than the ADHD group showed descriptively higher levels of kynurenate and 3HK. Yet, these measures did not predict symptoms or CPT performance. We speculate that the ADHD children in fact exhibit a relative lack of some of the other characteristics of these metabolites. For example, kynurenate also has α7 cholinergic antagonist properties [79] and higher levels antagonize rather than facilitate AMPA receptor transmission [80]. 3HK has antioxidant capability ([81]) as well as the toxic potential to assist in developmental pruning [16]. Indeed, it is unclear as yet whether energy metabolism in developing children would be impaired by the NMDA agonism of quinolinate [82] or facilitated through further metabolism to NAD(+) [83].
Limitations
Our conclusions are severely curtailed by not having measured other metabolites (picolinic and, quinolinic acid, NAD(+)), enzyme activity or the expression of genetic variants for these. Also in a pilot study the robustness of the data is naturally compromised by the small number of children that could be recruited and persuaded to offer a blood sample. However, this exploration with 56 children indicates a number of lines of inquiry that are not worth pursuing and others that might merit further study. Indeed, although the number of variables examined raises questions about the prevalence of false positive results, the statistical procedure included confirmatory tests and false discovery assessment to limit this. Cytokine measures, renowned for their variability, were relatively consistent with remarkably few outliers. Future work should seek replication with a longitudinal design to demonstrate consistency of the data in a larger sample. Such a design should account for developmental age, match for gender, and control for medication yet recruit cases with a range of comorbid attributes to clarify their contribution to the diagnostic condition.
Conclusions
We hypothesised that even if there are no major dichotomies for this selection of metabolites and cytokines between the groups studied, there would be some associations between symptom dimensions or attentional features and the activity of individual markers. In this exploration we have been able to point out some such associations that bear further study. Some regressions predicted 10 to 40% of the variance of the variable in question.
While in most cases the elements of the kynurenine pathway analysed did not show strong associations with behaviour, we are aware that those metabolites determining toxicity or energy supply were missing (e.g. quinolinic acid, NAD(+)). Only such a determination can link unequivocally putative maturation-related pruning (3HK levels) or glial energy supply [5] to metabolism. However, independent of kynurenine metabolism, among the cytokines there appears to be a conceptual division between the activity of antiinflammatory members with motor-control related features (symptoms, microevents) and pro-inflammatory members with cognitive-control features (opposition, variability). In several instances the associations extended across all subjects implying their quantitative trait nature. We recommend replications to include the pro-inflammatory IL-1β and antiinflammatory IL-4 and comparisons to examine stability of these associations before and after adolescence.
Authors' information
The study design was intentionally exploratory and the interpretation accordingly conditional. The presentation is aimed at informing both the disciplines of ADHD (psychiatric) and psychoimmunology (basic research) for whom certain elements may be more or less familiar and include negative and positive findings that may both guide future investigations.
Some of these data were communicated at the 10th Psychoimmunology Expert meeting at Ulm/Günzburg, 12-14th Nov. 2009 [84].
Abbreviations
ADHD:

Attention-deficit/hyperactivity disorder
BMI:

Body mass index
DSM-IV:

Diagnostic and Statistical Manual of the American Psychiatric Association, 4th edition
5-HIAA:

5-hydroxy-indole-acetic acid
5-HT:

serotonin
HPLC:

High Performance Liquid Chromatography
5-HT:

Serotonin
IL:

Interleukin
IFN-γ:

Interferon gamma
3HK:

3-hydroxy-kynurenine
PACS:

Parental Account of Children's Symptoms
RT:

Response time
SES:

Socio-economic scale
SD:

Standard Deviation
TNF-α:

Tumour necrosis factor alpha
Declarations
Acknowledgements
We are very grateful to UCB Pharma GmbH for financial support. We would like to thank Victoria Kirchhoff, Adriana Banozic and Ellen Uslar for their assistance in running this study in Essen, and Johana Zach for her help in the biochemical analyses in Munich.
Authors' Affiliations
(1)
Clinic for Child and Adolescent Psychiatry and Psychotherapy, University of Duisburg-Essen, Essen, Germany
(2)
Laboratory for Psychoneuroimmunology, Ludwig Maximillian's University Psychiatric Hospital, Munich 2, Germany
(3)
Child and Adolescent Psychiatry, University of Bern, Bern, Switzerland
Copyright
© Oades et al; licensee BioMed Central Ltd. 2010
This article is published under license to BioMed Central Ltd. This is an Open Access article distributed under the terms of the Creative Commons Attribution License (http://creativecommons.org/licenses/by/2.0), which permits unrestricted use, distribution, and reproduction in any medium, provided the original work is properly cited.