Selection for tameness modulates the expression of heme related genes in silver foxes
Behavioral and Brain Functions
2007
3:18
Received: 24 January 2007
Accepted: 17 April 2007
Published: 17 April 2007
Abstract
Background
The genetic and molecular mechanisms of tameness are largely unknown. A line of silver foxes (Vulpes vulpes) selected for non-aggressive behavior has been used in Russia since the 1960's to study the effect of domestication. We have previously compared descendants of these selected (S) animals with a group of non-selected (NS) silver foxes kept under identical conditions, and showed that changes in the brain transcriptome between the two groups are small. Unexpectedly, many of the genes showing evidence of differential expression between groups were related to hemoproteins.
Results
In this study, we use quantitative RT-PCR to demonstrate that the activity of heme related genes differ between S and NS foxes in three regions of the brain. Furthermore, our analyses also indicate that changes in mRNA levels of heme related genes can be well described by an additive polygenic effect. We also show that the difference in genetic background between the two lines of foxes is limited, as estimated by mitochondrial DNA divergence.
Conclusion
Our results indicate that selection for tameness can modify the expression of heme related genes in canid brain regions known to modulate emotions and behavior. The possible involvement of heme related genes in behavior is surprising. It is possible that hemoglobin modulates the behavior of canids by interaction with CO and NO signaling. Another possibility is that hemorphins, known to be produced after enzymatic cleavage of hemoglobin, are responsible for behavioral alterations. Thus, we hypothesize that hemoglobin metabolism can be a functionally relevant aspect of the domestic phenotype in foxes selected for tameness.
Keywords
Human CloneBrain Gene ExpressionReference Gene ExpressionHeme MetabolismBrain Transcriptome
Background
Domestication of animals can be described as the process by which wild animals adapt to coexistence with humans and to the environment we provide. Behavioral adaptation to the human environment is achieved through genetic changes occurring over generations together with environmental stimulation and experience during an animals lifetime [1]. A common aspect of early domestication is strong artificial selection for animals showing weak defensive behavior and low aggression towards humans [1], resulting in tame behavior.
The domestic dog (Canis familiaris) originated from the domestication of wild gray wolves (Canis lupus) at least 15,000 years ago [2, 3]. The molecular mechanisms responsible for the behavioral changes associated with domestication in dogs are not known. We have previously shown that the brain gene expression profile of domestic dogs has diverged from that observed in their wild ancestor the gray wolf, suggesting that behavioral selection during domestication has modified mRNA expression levels of genes with multiple functions [4]. However, from the comparison of domestic animals with their free-living wild ancestor it is not possible to separate phenotypic differences that have a genetic background from those that are caused by differences in the animal's external environment and experiences. We therefore decided to study domestication in another model where environmental conditions could be well controlled. In the 1960s D.K. Belyaev, the late director of the Institute of Cytology and Genetics in Novosibirsk, initiated a domestication experiment on farmed silver foxes, a color morph of the red fox (Vulpes vulpes), to test the hypothesis that physiological and morphological changes in the domestic dog could have resulted from selection for tameness alone [5]. In this experiment, that still continues, farmed foxes have been selected for non-aggressive behavior towards man for more than 40 generations. The selection has resulted in animals that not only are friendly towards humans, but also are skilled as dogs in communicating with people [6]. Moreover, developmental, morphological and neurochemical changes (including modulations of the serotonergic system and the activity of the hypothalamus-pituitary-adrenal (HPA) axis) are associated with the behavioral changes in the selected foxes [7–10].
We have previously compared the global brain gene expression of descendants of the selected (S) silver foxes with a group of non-selected (NS) foxes, raised under identical conditions in a Norwegian farm [11]. Our microarray results suggested that behavioral changes caused by selection for tameness may be associated with only limited changes in the brain transcriptome. Moreover, our results indicated that expression of several genes related to heme have been affected by behavioral selection [11]; as many as six of the 14 clones showing the largest expression differences coded for hemoproteins.
In our previous experiments, mRNA samples from foxes were cross hybridized to human cDNA microarrays. Although this is a well accepted method for comparing transcriptional profiles within species [12], it requires an additional step of identifying the orthologous genes in fox that were responsible for the signals. Few fox mRNA sequences are available in public databases. However, chromosomal organization is almost the same in dogs and red foxes [13, 14], and the sequence homology may be as high as 99.5% for individual genes [15]. Consequently, in this study we used dog sequences to design primers for quantitative real-time PCR (qPCR) to compare the mRNA levels of five heme-related canine sequences in the brains of the original sample set of S and NS foxes. To determine whether the mode of inheritance is primarily additive, we included animals which resulted from crossing the two original lines. In addition, we assess the divergence in genetic background between the S and NS lines, by comparing the left domain of the mitochondrial DNA (mtDNA) control region.
Results
Estimation of mtDNA divergence between selected and non-selected farm foxes
To estimate the genetic variability and degree of differentiation between
S
,
NS
and
wild
foxes we compared 333 base pair (bp) sequences of the left domain of the mtDNA control region. These sequences were complemented with others corresponding to wild red foxes deriving from public databases (GenBank). The comparison of the mtDNA sequences were made for a total of 29
NS
, 23
S
, 23
Cross
, 12
wild
foxes and an additional 26 wild foxes retrieved from databases. Five different mitochondrial DNA haplotypes were observed in farm foxes, three of them in the
NS
and two in the
S
foxes. All hybrids (
Cross
) shared one of the
S
haplotypes as the females for line crosses always were from the
S
line and the mtDNA is maternally inherited. All sequences observed in farm foxes were very similar. Their pair-wise sequence divergence was lower than 3% in all cases and all clustered in one clade in a neighbor-joining tree (Figure
1
). The genetic divergence between all farm fox haplotypes was similar to that observed in wild foxes sampled in a geographically limited region in Sweden. The four haplotypes observed in this wild population occupy different positions in the neighbor-joining tree. This indicates that the differences observed among farm animals (either selected or not) are comparable to the differences observed within one single natural population, and that
S
and
NS
lineages are closely related, with their haplotypes intermixed within one clade.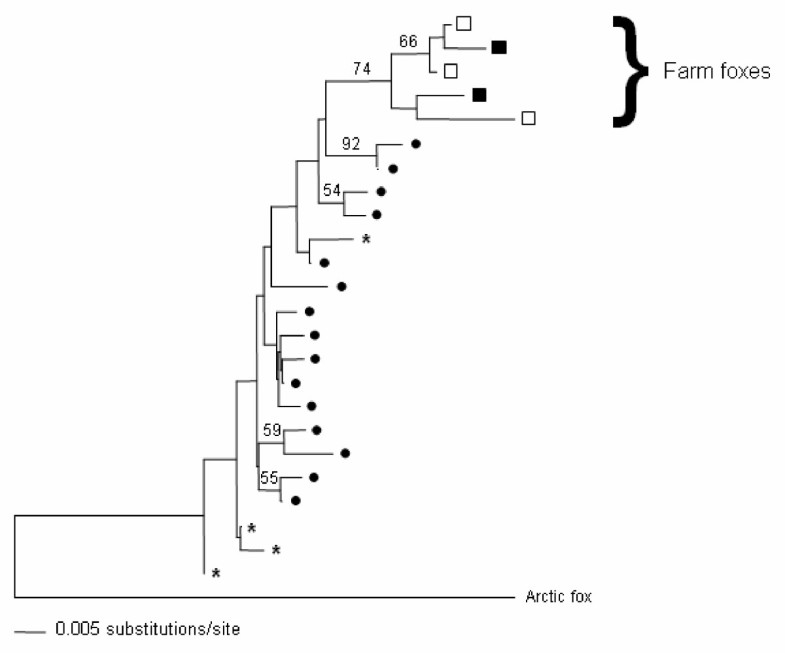 Sequence similarity of heme-related genes between humans and canids
Since the expressed sequences in foxes should be very similar to sequences in dogs, we identified dog mRNA species that could have yielded one or more of the signals from the heme-related human clones on the arrays in our previous study [
11
] (Table
1
). These dog mRNA species corresponded to five predicted dog genes, including four hemoglobins, namely, the beta (
HBB
) and epsilon (
HBE
) chains (located on canine chromosome 21), the alpha (
HBA
) and zeta (
HBZ
) chains (ESTs that mapped to canine chromosome 6), and the heme binding protein 1 gene (
HEBP1
) (located on canine chromosome 27). The canine mRNA sequence of
HBB
[GenBank accession number: LOC480784] and
HBE
[GenBank: LOC485256] were similar, as evident from a pair-wise blast (364 identities of 450 bp, e-value = 5e-55), and consequently, hybridization of either of the two mRNA species in foxes could have yielded the signals after hybridization to three human clones: 242594, 292528 and 239611. Similarly, the two canine ESTs, similar to human
HBA
[GenBank: CN003912] and
HBZ
[GenBank: DN366534], showed a high sequence similarity (207 identities of 270 bp, e-value = 4e-33), and either of the sequences expressed in fox could have yielded the signals on the two human clones 207558 and 248463. Finally, we could only identify one canine gene, [GenBank: LOC477690] which showed sequence similarities with the human clone 730346, encoding
HEBP1
.
Table 1
Sequence similarity between human clones giving signals of differential expression and dog mRNA sequence.
Dog mRNA sequence

Human Clone

LOC485256

LOC480784

CN003912

DN366534

LOC477690

ID

Symbol

(HBE)

(HBB)

(HBA†)

(HBZ†)

(HEBP1)

242594

HBG1

88%(242) 3e-78

79%(220) 1e-37

n.s.

n.s.

n.s.

292528*

HBG2

85%(426) 7e-127

81%(386) 5e-88

n.s.

n.s.

n.s.

239611

HBE

82%(175) 2e-32

81%(176) 8e-28

n.s.

n.s.

n.s.

207558

HBA2/HBZ

n.s.

n.s.

84%(309) 8e-75

73%(213) 8e-05

n.s.

248463

HBZ

n.s.

n.s.

88%(81) 8e-20

85%(155) 4e-36

n.s.

730346

HEBP1

n.s.

n.s.

n.s.

n.s.

76%(211) 3e-16
Expression levels of hemoglobin related genes are modified by selection for tameness
To examine which of the canine heme-related genes were differentially expressed in brains of selected silver foxes, and whether the mRNA levels showed evidence of a polygenic additive mode of inheritance, we designed primers based on canine sequences and quantified the mRNA levels corresponding to
HBB
,
HBE
,
HBA
,
HBZ
and
HEBP1
in three regions of the brain in 9
S
foxes, 17
NS
and 12
Cross
and 12
wild
. Three hemoglobin genes,
HBE
,
HBB
and
HBA
, and the heme binding protein
HEBP1
showed significantly lower mRNA levels in
S
foxes than in
NS
foxes in all brain regions (Figure
2
). The response was similar in all three brain regions and there were no significant interactions between origin and region (Table
2
). The difference between
S
and
NS
foxes was 3.1-fold for
HBE
, 2.3-fold for
HBB
, 2.2-fold for
HBA
and 1.5-fold for
HEBP1
(Table
3
). The mRNA levels of the foxes resulting from the crosses did not provide any strong evidence for a composite dominance effect (p-values > 0.13 for all genes, Table
3
), and thus the major variation in mRNA levels between
S
and
NS
foxes appears to be due to a composite additive genetic effect. However due to the limited sample sizes, this study was underpowered to detect a moderate dominance effect. The power to detect a dominance effect between the two parental lines (d = a) were 0.21, 0.47, 0.40, and 0.19 for
HBA
,
HBB
,
HBE
and
HEBP1
, respectively. Consequently, it is possible that a true dominance effect of this size may have been overlooked.
Table 2
ANCOVA comparison of mRNA levels in three regions of the brain between groups of foxes.
Num

HBA

HBB

HBE

HEBP1

Effect

DF

DF

F ratio

DF

F ratio

DF

F ratio

DF

F ratio

Origin

3

46

3.0

*

46

4.2

*

46

5.1

**

46

3.1

*

Contrasts

1) S vs NS

1

46

4.1

*

46

10.4

**

46

8.7

**

46

5.6

*

2) C vs Par

1

46

0.3

46

2.4

46

0.2

46

0.8

3) W vs F

1

46

3.8

46

0.0

46

7.8

**

46

2.2

PCR Plate

1

89

231.6

***

90

66.2

***

88

10.5

**

89

21.8

***

Region

2

89

6.9

**

90

3.1

*

88

1.2

89

8.8

***

Origin*Region

6

89

0.6

90

1.0

88

1.1

89

1.4

Ref. gene

1

89

131.3

***

90

122.8

***

88

24.9

***

89

156.4

***
Table 3
Contrasts comparing the average gene expression levels in brain between groups of foxes.
| Contrast | Gene | Fold Change | p-value |
| --- | --- | --- | --- |
| 1) S vs NSa | HBE* | -3.1 | 0.005 |
| | HBB | -2.3 | 0.002 |
| | HBA | -2.2 | 0.048 |
| | HEBP1* | -1.5 | 0.022 |
| 2) Cross vs parentalb | HBE | -1.2 | 0.623 |
| | HBB | 1.4 | 0.132 |
| | HBA | 1.2 | 0.617 |
| | HEBP1 | -1.1 | 0.365 |
| 3) Wild vs Farm | HBE* | 2.7 | 0.008 |
| | HBB | 1.0 | 0.853 |
| | HBA | -1.9 | 0.059 |
| | HEBP1* | -1.3 | 0.143 |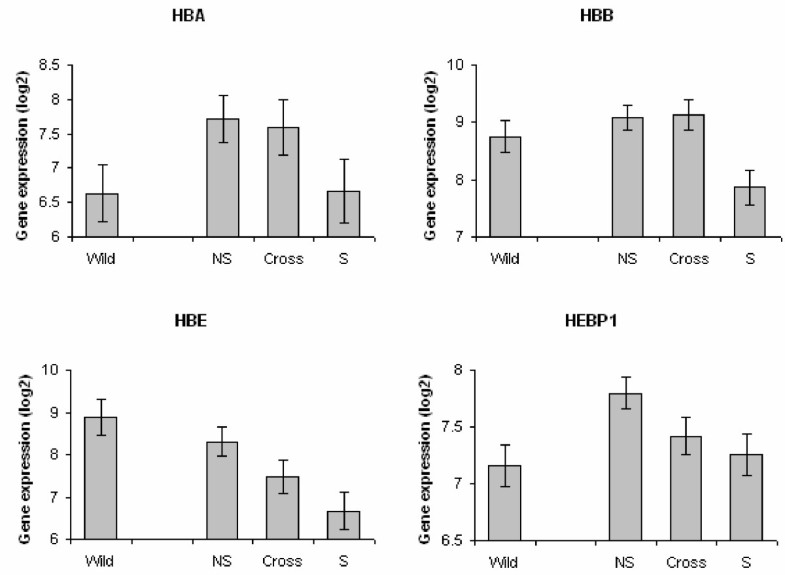 To estimate heme-related gene expression in blood cells, we also performed qPCR on dog blood, where all five examined transcripts were detected. Thus to evaluate the potential effect of blood perfusion on HBE and HEBP1 expression levels, we assumed that the average HBA and HBB levels (HB) could represent the maximum effect of blood perfusion caused by e.g. a systemic stress response. The HBE levels clearly increased with the normalized HB expression (p-value < 0.0001). However, even in presence of a perfusion effect S foxes had a 1.8-fold lower HBE mRNA levels than NS foxes (p-value = 0.031). The normalized HB level did not significantly affect the expression of HEBP1 (p-value = 0.18). Still if the perfusion effect was included in the statistical model, the difference in HEBP1 levels were reduced to 1.3-fold, suggesting that part of the HEBP1 difference between the S and NS foxes may be linked to the average HB mRNA levels. These results suggest that, while we cannot exclude a perfusion effect, part of the heme-related gene alterations is independent of this effect.
When we compared farmed foxes (S, NS, Cross) versus wild animals, we noted that HBE was the only gene to have mRNA levels that differed significantly between these two groups, with 2.7-fold higher levels in the wild foxes as compared to farmed (Table 3). This difference is difficult to explain as changes in environment and time post-mortem are confounded with the differences between the groups. Possible differences in HBZ levels could not be reliably quantified with our qPCR protocol because its mRNA levels were below the detection limit for almost half of the investigated samples.
Discussion
We have previously shown that dramatic behavioral changes caused by selection for tameness may be associated with only limited changes in the brain transcriptome. In this study, we first evaluated whether differences in genetic background between S and NS farm foxes (rather than genetic differences due to selection for tameness) may be responsible for the observed expression differences, by estimating the mtDNA divergence between S and NS lines. Our results showed that the mtDNA lineages present in S and NS lines were similar to each other and did not cluster in reciprocally monophyletic groups. Although both NS and S foxes were likely to have reduced genetic diversity due to founding effects and subsequent drift, our results suggest that they are not likely to derive from wild populations that had been isolated from each other for a long time [16]. In fact, all farmed silver foxes are said to have originated from animals captured in Canada over a Century ago [17]. This could explain their differentiation from wild red foxes from Sweden and implies that S and NS foxes have a common origin.
Our previous microarray results suggested that heme-related genes in particular, show pronounced expression differences between S and NS foxes. Thus, in this study we used qPCR to quantify mRNA levels of five heme-related genes in S, NS, and foxes resulting from crossing the two parental lines, to determine whether we could find any evidence of an additive genetic effect underlying transcriptional differences between S and NS animals. We found that four of the five investigated genes, HBA, HBB, HBE and HEBP1, showed decreased expression levels in foxes selected for tameness compared to non-selected farm foxes. If multiple loci controlling gene expression have been under selective pressure, then we would expect that the expression variation between the two experimental populations (and the crosses between them) should primarily follow an additive mode of inheritance. For three of the genes, HBA, HBE and HEBP1, an additive genetic component did indeed appear to explain the observed expression variation. Thus, our results suggest that a selective pressure for tameness may result in direct or indirect modulation of heme and hemoglobin metabolism. However, for the fourth gene, HBB, the mRNA levels in foxes resulting from crossing and back-crossing the parental lines exceeded those of both the S and NS lines, and a simulation analysis revealed that moderate deviations from additivity could not be ruled out for any of the investigated genes given the limited power of the experiment.
The comparisons with animals in the wild are more difficult to interpret. However, from the comparison of S foxes with wild foxes it is clear that the abundance of each individual transcript does not predict tameness independently of context. These results are not surprising since we have previously shown that environmental effects together with adaptation to life in captivity have a much larger influence on brain gene expression in foxes, than selection for tameness [11]. It is possible that mRNA levels of heme related genes also are affected by the living conditions of foxes, and that mRNA levels in wild foxes have been further modified by mRNA degradation (since the post mortem interval in wild foxes was unknown). Thus strict interpretation of the comparisons of mRNA levels in wild and farmed foxes is not possible, due to the confounding effect of selection with systematic differences in environmental variables. Our results thus demonstrate the need for rigorous control of living environment and experimental conditions when studying the evolution of the brain transcriptome.
Four of the five investigated genes encode hemoglobin subunits. The HBA, HBB, HBE and HBZ genes encode globins (alpha, beta, epsilon and zeta) which, together with iron-containing heme groups, form hemoglobin subunits [18]. The fifth gene, HEBP1, encodes a monomeric and soluble protein that binds heme in both man and mouse [19]. HEBP1 is induced during erythroid differentiation and the protein is likely to be involved in utilization of heme for synthesis of heme proteins [20]. The coordinated response to selection for tameness in these genes suggests that heme metabolism and hemoglobin levels may have been modulated in the brains of tame animals.
In humans, hemoglobin alpha- and beta transcripts are known to be expressed in both leukocytes and reticulocytes of circulating blood [21, 22]. In the normal human adult, alpha- and beta chains account for more than 98% of the total globin chains in blood [21]. As hemoglobin alpha- and beta also are the two dominating globins in fox blood [23], it is possible that the increased mRNA levels of these genes in NS foxes could be a manifestation of an increased perfusion in the brain as a direct consequence of a stronger stress response to human handling. However, HBA and HBB differences between S and NS foxes could only partly account for the observed decreased levels of HBE and HEBP1 in selected foxes. Thus, although a systemic response to stress may have contributed to the observed differences in levels of hemoglobin transcripts, our results suggest that selection may also have direct effects on the heme metabolism in the brain of tame animals. Possible consequences of an altered heme metabolism in the brain on tame behavior are discussed below.
Although involvement of hemoglobin genes in behavior is surprising, several observations support this possibility. First, a gene involved in behavior should be expressed in brain cells, and both hemoglobin α and β are expressed in neurons and glial cells [24]. Second, besides the well known role as an oxygen transport molecule, hemoglobin also binds carbon monoxide (CO) and nitric oxide (NO) with high affinity, and acts as an extra-cellular scavenger of these signaling molecules in the mammalian brain [20]. Evidence from in vivo studies demonstrates that CO produced from the enzymatic cleavage of heme, has important biological functions in the control of the stress response of mammals [25, 26]. Nitric oxide also modulates the neuroendocrine responses and behavior that is linked to serotonin and the HPA-axis [27–29]. A third evidence for a potential role of hemoglobin in behavior is based in the knowledge that β-, κ-, δ- and ε-chains of hemoglobin also serve as the main precursors for hemorphins, a class of endogenous "non-classical" opioid peptides [30]. Hemorphins are naturally occurring peptides in brain, plasma and cerebrospinal fluid, with high binding affinity to μ- and δ-opioid receptors [30]. Although the function of hemoglobin in the brain is not known, hemorphins induce release of β-endorphin and dynorphin, endogenous opioids that are released in response to acute stress or pain [31, 32]. From these results we postulate that hemorphins may also modulate stress responses in the fox. Similarly, it has been suggested that hemorphins produce dampening of exploratory and aggressive behavior in mice [33, 34].
We have previously showed that genetic changes in behavior caused by selection for tameness may be associated with only limited changes in the brain transcriptome [11]. In this study, we present evidence indicating that selection for tameness has modulated heme and hemoglobin metabolism in the brain, and that the (additive) mode of inheritance of mRNA expression is similar to that of tame behavior. It can not be ruled out that part of the observed response of heme related transcripts is the result from a systemic stress response. However, our results indicate that selection has also had direct effects on the heme metabolism in the brain of tame animals, and we hypothesize that heme-related genes are directly, or indirectly, involved in behavior related to tameness.
Declarations
Acknowledgements
We are grateful for the help of Erik Ågren at the Swedish National Veterinary Institute (Uppsala, Sweden) for providing the samples of wild red foxes. Ulf Olsson gave valuable advice for the statistical analysis and Birgitte Seehuus assisted in collecting samples from the silver foxes. This work was supported by grants from the Swedish Research Foundation (621-2002-4258) from The Swedish Research Council for Environment, Agricultural Sciences and Spatial Planning (217-2004-2012), and a strategic grant from the Swedish University of Agricultural Sciences.
Authors' Affiliations
(1)
Department of Evolution, Genomics and Systematics, Uppsala University, Uppsala, Sweden
(2)
Department of Animal and Aquacultural Sciences, Norwegian University of Life Science, Aas, Norway
(3)
Department of Physiology and Developmental Biology, Uppsala University, Uppsala, Sweden
Copyright
© Lindberg et al; licensee BioMed Central Ltd. 2007
This article is published under license to BioMed Central Ltd. This is an Open Access article distributed under the terms of the Creative Commons Attribution License (http://creativecommons.org/licenses/by/2.0), which permits unrestricted use, distribution, and reproduction in any medium, provided the original work is properly cited.