Impaired verbal memory in Parkinson disease: relationship to prefrontal dysfunction and somatosensory discrimination
Behavioral and Brain Functions
2009
5:49
Received: 2 June 2009
Accepted: 15 December 2009
Published: 15 December 2009
Abstract
Objective
To study the neurocognitive profile and its relationship to prefrontal dysfunction in non-demented Parkinson's disease (PD) with deficient haptic perception.
Methods
Twelve right-handed patients with PD and 12 healthy control subjects underwent thorough neuropsychological testing including Rey complex figure, Rey auditory verbal and figural learning test, figural and verbal fluency, and Stroop test. Test scores reflecting significant differences between patients and healthy subjects were correlated with the individual expression coefficients of one principal component, obtained in a principal component analysis of an oxygen-15-labeled water PET study exploring somatosensory discrimination that differentiated between the two groups and involved prefrontal cortices.
Results
We found significantly decreased total scores for the verbal learning trials and verbal delayed free recall in PD patients compared with normal volunteers. Further analysis of these parameters using Spearman's ranking correlation showed a significantly negative correlation of deficient verbal recall with expression coefficients of the principal component whose image showed a subcortical-cortical network, including right dorsolateral-prefrontal cortex, in PD patients.
Conclusion
PD patients with disrupted right dorsolateral prefrontal cortex function and associated diminished somatosensory discrimination are impaired also in verbal memory functions. A negative correlation between delayed verbal free recall and PET activation in a network including the prefrontal cortices suggests that verbal cues and accordingly declarative memory processes may be operative in PD during activities that demand sustained attention such as somatosensory discrimination. Verbal cues may be compensatory in nature and help to non-specifically enhance focused attention in the presence of a functionally disrupted prefrontal cortex.
Keywords
Free RecallRelay NodeDorsolateral Prefrontal CortexPrefrontal DysfunctionVerbal Retrieval
Background
Non-demented Parkinson's disease (PD) has been associated with a number of neurocognitive deficits including executive and memory dysfunction [1, 2]. Executive functions, generally defined as the ability to plan, monitor, and carry out goal directed behaviour in response to changing environmental situations, rely on intact frontal lobe processes [3]. In PD, breakdown of dopaminergic activity at the head of the caudate nucleus is thought to disrupt the functional integrity of the prefrontal cortex and, thus, to be particularly implicated in the occurrence of executive deficits [4, 5], although cholinergic [6] and noradrenergic mechanisms [7] are likely to be involved as well. The reduced activation of striato-prefrontal circuits in PD patients has been recently corroborated by functional MRI (fMRI) studies using working memory tasks [8, 9]. Memory impairment in non-demented PD has been traditionally viewed as verbal retrieval deficit with verbal recognition being relatively preserved [10, 11]. However, recent work indicates that encoding deficits [12–14] and even hippocampal atrophy [15–18] may develop in non-demented PD, independent of verbal retrieval. Hence, while encoding deficits likely mirror mesio-temporal dysfunction, it has been suggested that the verbal retrieval deficit, the hypothetical cause of delayed free recall, is explained by ineffective search strategies normally executed by the intact prefrontal cortex [19], therefore reflecting impaired prefrontal processing. Furthermore and more specifically, strategic or executive deficits are associated with both encoding and retrieval processes, thought to predominantly involve left dorso-lateral prefrontal cortex in the former and right dorsolateral prefrontal cortex in the latter function [20].
As shown in a previous PET study by our group, prefrontal dysfunction seems also to be closely related to impaired somatosensory, i.e. tactile, object discrimination in non-demented PD patients [21]. In this study, patients were engaged in a task of somatosensory discrimination that required repeated encoding, maintenance and retrieval of information for comparison of sequentially explored objects over an extended period of time (see methods section below) and thus demanded a high degree of attention and working memory. In comparison with healthy controls, patients showed poorer somatosensory discrimination performance and reduced implication of the right dorsolateral prefrontal cortex, the dorso-medial thalamus and the mesial frontal cortex, suggesting that frontal association cortices are critically involved in somatosensory information processing. This decline of functional cortico-subcortical connectivity, which was more pronounced in advanced disease stages, might be related to dysfunction of the dorsolateral prefrontal circuit described by Alexander et al. 1990 between thalamus, caudate nucleus and dorsolateral prefrontal cortex, probably due to impaired caudate dopaminergic function [4]. As a probable correlate of impaired prefrontal function, and thus reduced working memory capacity, we observed that our patients had difficulties in dividing attention between following the order of objects explored and discriminating them [5, 22]. In a recent fMRI study in healthy normal volunteers we were able to show the prominent role of the prefrontal cortex on working memory during somatosensory discrimination [23].
Here, we present a detailed neurocognitive profile of our PD patient population in relation to prefrontal cortex dysfunction. Our aim was to explore the correlation of impaired capacities for planning, monitoring and retrieving information as assessed by an extensive neuropsychological test battery, with frontal cortex dysfunction as evidenced in the PET study mentioned above and reduced somatosensory discrimination performance. We expected decreased scores in executive functions including deficits in encoding and retrieval processes during delayed free recall in PD patients compared to healthy controls. Furthermore, we hypothesized an interrelation between these tasks and the disrupted prefrontal circuit and parameters of somatosensory discrimination in PD.
Results
Neurocognitive performance
MMSE average score of the patient group was 28.5 ± 1.4 points (mean ± SD). The neuropsychological scores are summarized in Table 2; items are listed according to their corresponding cognitive domain, i.e. executive, verbal and non-verbal memory functions.
The comparison between PD patients and controls revealed significant differences for verbal memory functions. Specifically, PD patients attained significantly lower scores for verbal learning and delayed verbal free recall (both p < .01), whereas immediate memory span and verbal recognition were preserved. In addition, executive functions and figural memory did not show any significant differences.
As the mean ages between PD patients and controls were slightly different, a putative age effect was assessed. However, age had no influence on performances of the verbal learning trials and delayed free recall in both patients and controls. Specifically, regression coefficients for a linear relationship between test performances and age were not different from zero. The hypothesis of a horizontal regression relating these parameters and age could not be rejected, since the observed t-statistics were within the 95%-confidence interval.
Somatosensory discrimination performance
All participants explored the objects with dynamic digital movements. Consistent with earlier studies, PD patients showed on average a significantly lower thumb movement frequency than the control group (1.4 ± 0.28 versus 2.1 ± 0.4 Hz; unpaired two-tailed t-test, p < .01). Patients also discriminated fewer object pairs per minute (5.4 ± 1.7 versus 6.2 ± 1.7 pairs/min) and required longer exploration times per pair (8.4 ± 3.8 versus 7.6 ± 3.1 sec/pair), but these differences were not significant [21]. This corresponded to 8.1 and 9.2 object pair explorations and decisions in the PD patients and normal volunteers, respectively, during the 90 s acquisition of the somatosensory discrimination task. For object pairs above the critical threshold difference in the major axis of approximately 2 mm, the proportion of correct discriminations was significantly lower in the patient group (0.79, CI 0.75-0.83) compared to the control group (0.95, CI 0.93-0.96) with p < .001 (z-approximation) [21]. On average, the coefficient d1 was 0.65 (range 0.34 - 1.06 in the normal volunteers and 0.35 (range 0 - 0.79 in the PD patients (p < 0.01, unpaired, two-tailed t-test). Also for somatosensory discrimination performance, dedicated statistical testing as mentioned above showed no significant age effect in both patients and controls [5]
Correlation of impaired memory with prefrontal network and somatosensory discrimination
We found a significant negative correlation between delayed verbal free recall and PC 7 scores in PD patients, but not in the control group (Fig.
1A
). It should be emphasized that those individuals who attained a higher score in the delayed verbal free recall score were less likely to engage the neuronal network delineated in PC 7 image during somatosensory discrimination (Table
3
). The implication of frontal cortical dysfunction during somatosensory discrimination is indicated by the involvement of the dorsolateral prefrontal cortex and dorsomedial thalamus, i.e. constituents of the dorsolateral prefrontal circuit of Alexander [
4
], and the mesial frontal cortex. In PD patients a negative correlation at the trend level was also found between delayed verbal free recall and haptic discrimination scores (Fig.
1B
). For verbal learning no significant correlations could be found with PC 7 and
d1
scores, neither in patients nor in controls. Our findings are summarized in Table
4
.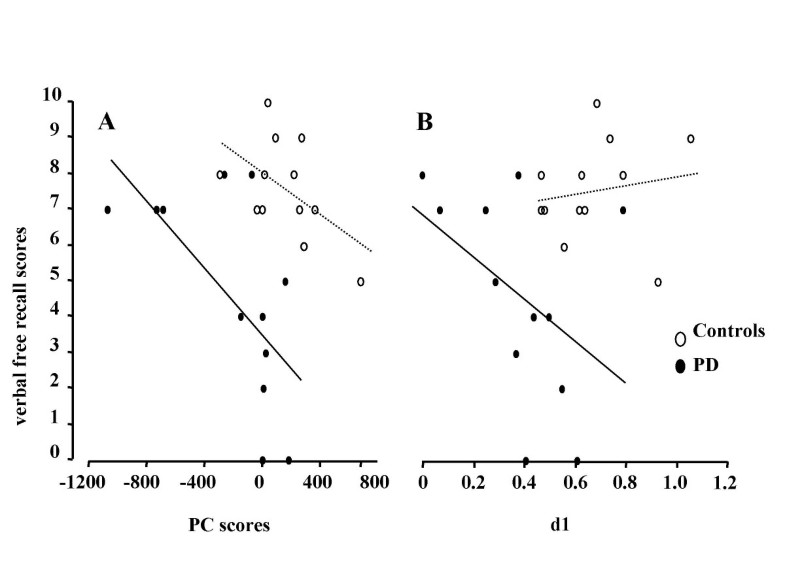 Table 4
Correlation of impaired verbal memory with prefrontal network (PC7) expression scores and haptic discrimination index d1
| | | R (Patients, N = 12) | R (Controls, N = 12) |
| --- | --- | --- | --- |
| Delayed verbal free recall | PC7 | -0.69* | -0.38 |
| | d1 | -0.53** | 0.31 |
| Verbal learning | PC7 | 0.13 | -0.15 |
| | d1 | -0.41 | 0.50 |
Discussion
In the present study, we analyzed the neurocognitive profile of non-demented PD patients with deficient tactile object discrimination and associated abnormalities in a previous PET activation study [21]. We suggested that dysfunctions in prefrontal areas could reflect neurocognitive deficits that ultimately interfere both with neuropsychological test performance and somatosensory information processing. Therefore, executive and memory processes were of main interest in this neurocognitive evaluation, since they support the ability to focus attention and maintain information processing in reaching a decision. Yet, our working hypothesis was that this neuropsychological test battery would supplement our understanding of disrupted executive processes as reported previously in a somatosensory discrimination activation study using PET [21].
Our findings are characterized by a disproportionate impairment of verbal memory during learning and delayed free recall, whereas executive functions and spatial memory are largely preserved. Particularly, set maintenance, held to be impaired frequently in non-demented PD [34–40], was not found to be implicated as indicated by the normal Stroop interference effect and performance in fluency tasks. Intact verbal fluency is noteworthy as it requires efficient retrieval strategies, and also involves the ability to suppress incorrect responses. Nevertheless, the set maintenance ability observed in our PD patients agrees with other studies reporting an intact Stroop interference effect or deficient semantic rather than phonemic fluency [41, 42].
Furthermore, sparing of executive functions, notably Stroop interference and verbal fluency, in this small sample suggests that some of our patients might have represented an amnestic type of mild cognitive impairment, as has been recently described [43]. This possibility is also conceivable as our MMSE cut off score (< 27) was not very rigorous. In fact, in a very recent study with a large cohort of non-demented untreated PD patients, the mild cognitive impairment subgroup had average MMSE score of 26.5 [34]. Overall, our findings suggest that neurocognitive functions in mild to moderate stages of PD may be differentially affected and not deteriorate uniformly. The profile of memory deficits is consistent with the traditional view that in non-demented PD, in whom verbal retrieval (reflected by problems in free recall) as a hallmark of fronto-striatal dysfunction is typically more affected than verbal recognition [10, 11]. In demented PD patients the pattern may reverse with recognition deficits being more prominent than retrieval impairment [13]. However, recent literature suggests that differences between retrieval and recognition deficits may be less pronounced in PD than originally thought [12, 14]. Furthermore, our finding of significantly impaired verbal learning in non-demented PD fits with recent data showing that encoding deficits and hippocampal atrophy may develop early in the disease [12, 14–18].
In our earlier studies on the same subjects and at the same time deficient activation of the prefrontal cortex was seen in those patients who were especially deficient in somatosensory discrimination performance and showed low dopaminergic transmission within the caudate nucleus [5, 21]. Yet, as a group PD patients showed less engagement of the right dorsolateral prefrontal circuit as evidenced by principal component analysis [21]. The important finding of this study was that somatosensory discrimination deficits correlate strongly with direct evidence of diminished dopamine uptake in the caudate nucleus, and that these deficits are not related to the manual clumsiness normally characteristic of Parkinson's patients [5]. The association of low somatosensory perception and decreased FDOPA-uptake provides direct evidence for the role of the caudate nucleus in the cognitive part of the task, being a relay node of the dorsolateral prefrontal circuit. The findings support the assumption that the PD patients group has a firm neurobiological basis for a neurocognitive failure with disruption of a specific subcortical-cortical circuit involving the prefrontal cortex. The PD patients may thus represent a spectrum of individuals with a relatively preserved to progressively deficient function of the dorsolateral prefrontal cortex during information processing [21]. In a recent study exploring somatosensory discrimination by fMRI we were able to show that the right prefrontal cortex is involved during the phase when retrieval of information from episodic memory is critical for the comparison of sequentially explored objects [44]. For a summary of impaired somatosensory discrimination associated with caudate nucleus dopaminergic transmission (see additional file 1) [5].
PD patients with impaired dorsolateral prefrontal cortex function and associated diminished somatosensory discrimination are impaired also in verbal memory functions. This primary finding of principal component analysis was refined by exploiting within groups the relationship of the PC7, relevant for frontal cortex processing, to the verbal memory functions, the so-called scaled subprofile model to functional imaging [31]. Of note, we found a negative correlation between deficient delayed verbal free recall obtained in the pre-test phase of the PET study and the expression of a somatosensory regional cerebral blood flow covariance pattern showing cortico-subcortical interactions with relay nodes in the mediodorsal thalamus and dorsolateral prefrontal cortex as well as in the mesial frontal cortex. These findings support the concept that verbal retrieval and prefrontal function depend, at least in part, on one another [19]. It should be noted that Fletcher et al. [45] found evidence for the importance of the right dorsolateral prefrontal cortex during retrieval of auditory-verbal material from episodic memory. On an individual basis, the negative correlation shows that the pattern of functional connectivity involving the prefrontal cortex was more expressed in patients with low verbal retrieval scores; conversely, low expression of the prefrontal cortex pattern in the PET study was found surprisingly in patients with better score in verbal retrieval test. This relationship was clearly weaker and insignificant in the control group. Relatively enhanced verbal retrieval might be latent in more advanced PD patients and correspond to silent speaking in order to focus attention during the performance of a specific task. Since it correlates with a network pattern elicited during somatosensory information processing, subvocal verbal cues might have been used also by PD patients during somatosensory discrimination in an attempt to redress impaired prefrontal function. The association of the verbal and haptic domain in PD is further corroborated by the weak correlation at threshold level between delayed verbal free recall and the somatosensory discrimination performance (expressed as d1). The greater engagement of verbal cues and, hence, of declarative memory processes may be compensatory in nature. Such inverse relationships between neuronal network activities and cognitive processes have been described recently for executive functions in PD patients [46]. In our study, the weak correlation of somatosensory discrimination impairment with deficient verbal free recall also raises the question whether verbal retrieval and tactile object discrimination may be processed by parallel functional neuronal networks converging to common relay nodes. Two regions activated in the network of PC 7, the mesial frontal cortex and the right middle temporal gyrus, might act as these putative points of convergence. Activation of the mesial frontal cortex has been proposed to represent emotional drive related to attention, language and memory; this mechanism could affect both tasks unspecifically [47]. On the other hand, activation of the right middle temporal gyrus might represent a form of subvocal rehearsal during the somatosensory discrimination task.
Interestingly, it has been observed that verbal retrieval strategies of shape information indeed may facilitate tactile object recognition [48]. Moreover, in healthy older adults, the middle temporal gyrus has been shown to increase its activity in the presence of reduced grey matter density in the prefrontal cortex; the increase has been interpreted as a compensatory mechanism for prefrontal dysfunction [49]. Similarly, a shift to the declarative memory system in PD during planning tasks, possibly resulting from insufficient working memory capacity within the fronto-striatal system, has been reported [8], i.e. PD patients activated alternatively the hippocampus which also projects to the prefrontal cortex. Summarizing, we propose that compensatory mechanisms might be of significance in the presence of prefrontal dysfunction through (1) unspecific enhancement via the mesial frontal cortex and (2) verbal rehearsal strategies via the middle temporal gyrus.
There are limitations in our study. Firstly, the sample size was small increasing the risk of type II errors, and many statistical tests were conducted increasing the chance of type I error. After Bonferroni correction of the alpha-level for multiple comparisons the verbal free recall deficit in PD patients would just fail to reach the significance level when compared with healthy controls. On the other hand, we think that the significant correlation of verbal free recall with the PET data in PD patients underscores the reliability of the finding rendering the strict correction an inacceptable risk of type II error. Secondly, our findings may be influenced by the fact that the patients were not in defined OFF state during neuropsychological testing in contrast to the PET scanning. However, we would expect that the correlation of the PET data with the neurocognitive variables might have been stronger if the experimental conditions were controlled more strictly. Thus, our observations support the assumption that the negative correlation between verbal retrieval and the dorsolateral prefrontal circuit reflects compensation for impaired routines in PD patients.
Declarations
Acknowledgements
We thank Dr. John Missimer from PSI Villigen for careful reading of the manuscript and suggestions and Prof. emer. Alex Keel from the University of St.Gallen for advice in the statistical analysis.
This study was supported by Swiss National Foundation (Schweizerischer Nationalfonds zur Förderung der wissenschaftlichen Forschung); Contract Grant Number: 3200-037400 and 32003B-118018
Authors' Affiliations
(1)
Department of Neurology, Division of Cognitive and Restorative Neurology, University Hospital Bern, Bern, Switzerland
(2)
Department of Neurology, Kantonsspital St. Gallen, St.Gallen, Switzerland
(3)
Department of Neurology, University Hospital Zurich, Zürich, Switzerland
(4)
Department of Neurology, University of Bern, Bern, Switzerland
Copyright
© Bohlhalter et al; licensee BioMed Central Ltd. 2009
This article is published under license to BioMed Central Ltd. This is an Open Access article distributed under the terms of the Creative Commons Attribution License (http://creativecommons.org/licenses/by/2.0), which permits unrestricted use, distribution, and reproduction in any medium, provided the original work is properly cited.